The Leading Family, Cake Smash, Maternity and Newborn Photographer in Newcastle, County Durham and the North East.
Newcastle | Gateshead | County Durham
Mini Bee Photography is a leading photography studio based in Burnopfield, Newcastle upon Tyne and County Durham. We specialise in family, cake smash, maternity and newborn photography in Newcastle Upon Tyne, County Durham and across the North East.
When you choose Mini Bee Photography, you are in safe hands. With more than 20 years' experience, you are choosing experience, safety, creativity and a lot of fun! Every photography session is bespoke and you know that you are creating something that is unique to you. We take the time to get to know you and your portraits reflect your personality and style.
As the leading newborn photographer in Newcastle, your precious little one is safe with me. These are memories you get just one opportunity to create.
Our Next Mini Sessions are: BLOSSOM AND BLUEBELLS
Christmas Sessions in County Durham
Fri Nov 24th 2023 Santa Session- SOLD OUT
Sat Nov 25th 2023 Non Santa Session- Limited Availability
Sun Nov 26th 2023 Santa Session – SOLD OUT
Mon Nov 27th 2023 Santa Session – SOLD OUT
County Durham
Limited Availability
More Information
Autumn Sessions in Chopwell Woods, County Durham
Sat Nov 4th 2023 – Limited Availability
Sat Nov 5th 2023 – Limited Availability
County Durham
Limited Availability
More Information
Newborn Christmas Sessions in Newcastle Upon Tyne
Add this Christmas package to your existing newborn photography session or buy it as a stand alone session.
Terms and Conditions apply
More Information
Hi! First of all thank you for visiting Mini Bee Photography.
My name is Sam and I'm the owner and photographer of Mini Bee. I've been photographing children for many many years, so many that when I started I began on film and processing in the dark room – there was no room for error back then! Over the years I've photographed many aspects of photography, from door knobs to skydiving but now specialise as a newborn photographer in County Durham and Newcastle Upon Tyne. I really fell in love and felt like I found my goal in life when I started photographing children and specifically newborn in 2016. This could be because I have 2 children of my own, who knows. All I know is that I really feel like I've found my calling in life. It feels so amazing to do a job that you love and care about (and I've been told that this shows in the photographs which obviously makes me happy to hear).
My home life is always hectic with things going on. I have two kids, a husband (so make that three kids) and a dog (the most loving Bernese Mountain Dog) so I'm fully trained in first aid but thankfully never needed it. We love doing the usual things like holidays, walks, playing games, etc My passions are formula one and sunshine. Give me these two things along with a rhubarb gin and I'm a happy gal. Throw in a hot tub or a pool and I'm living my best life.
I hope you enjoy visiting this site, please do not hesitate to get in touch with me if you have any questions at all.
The
Queen Bee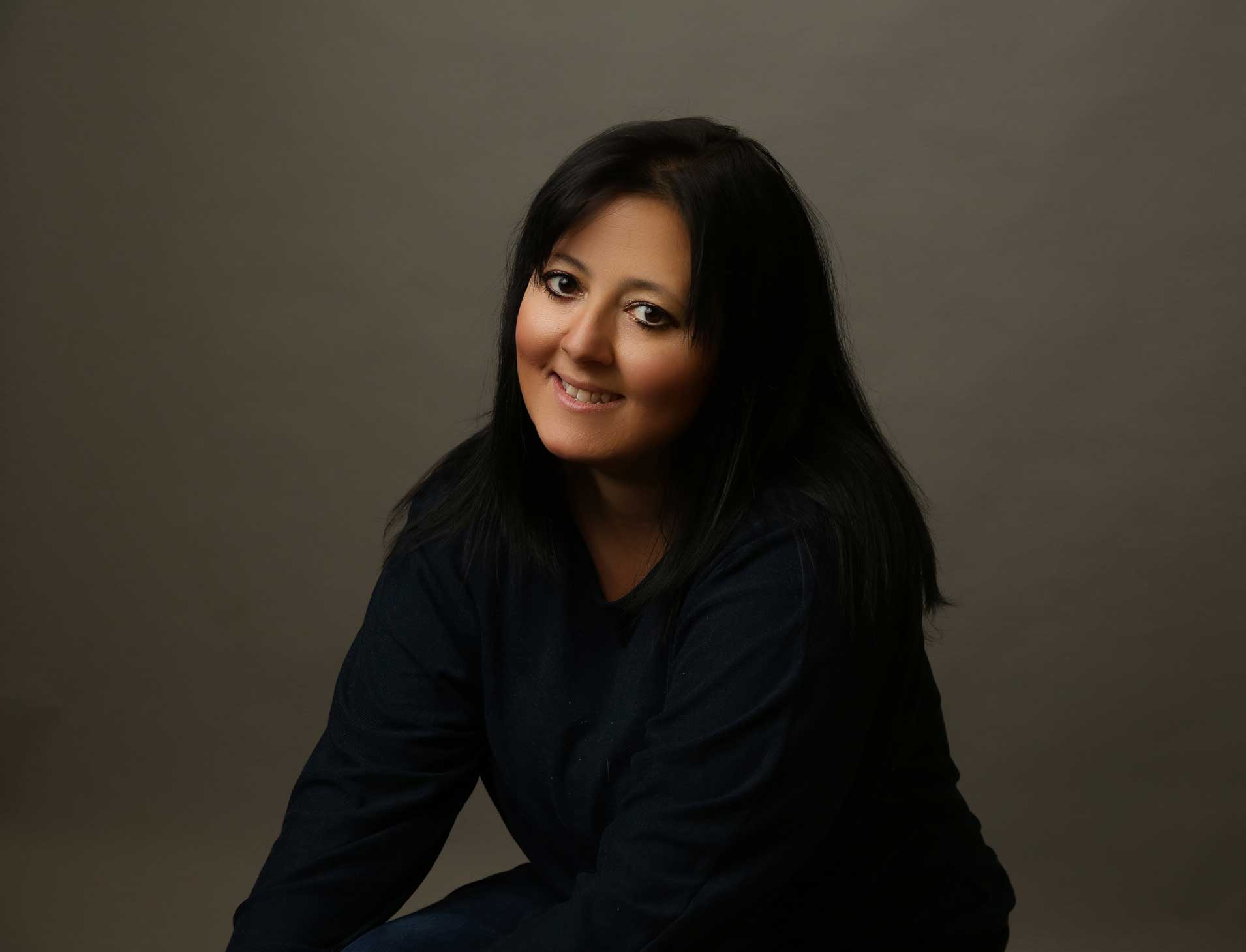 The
Studio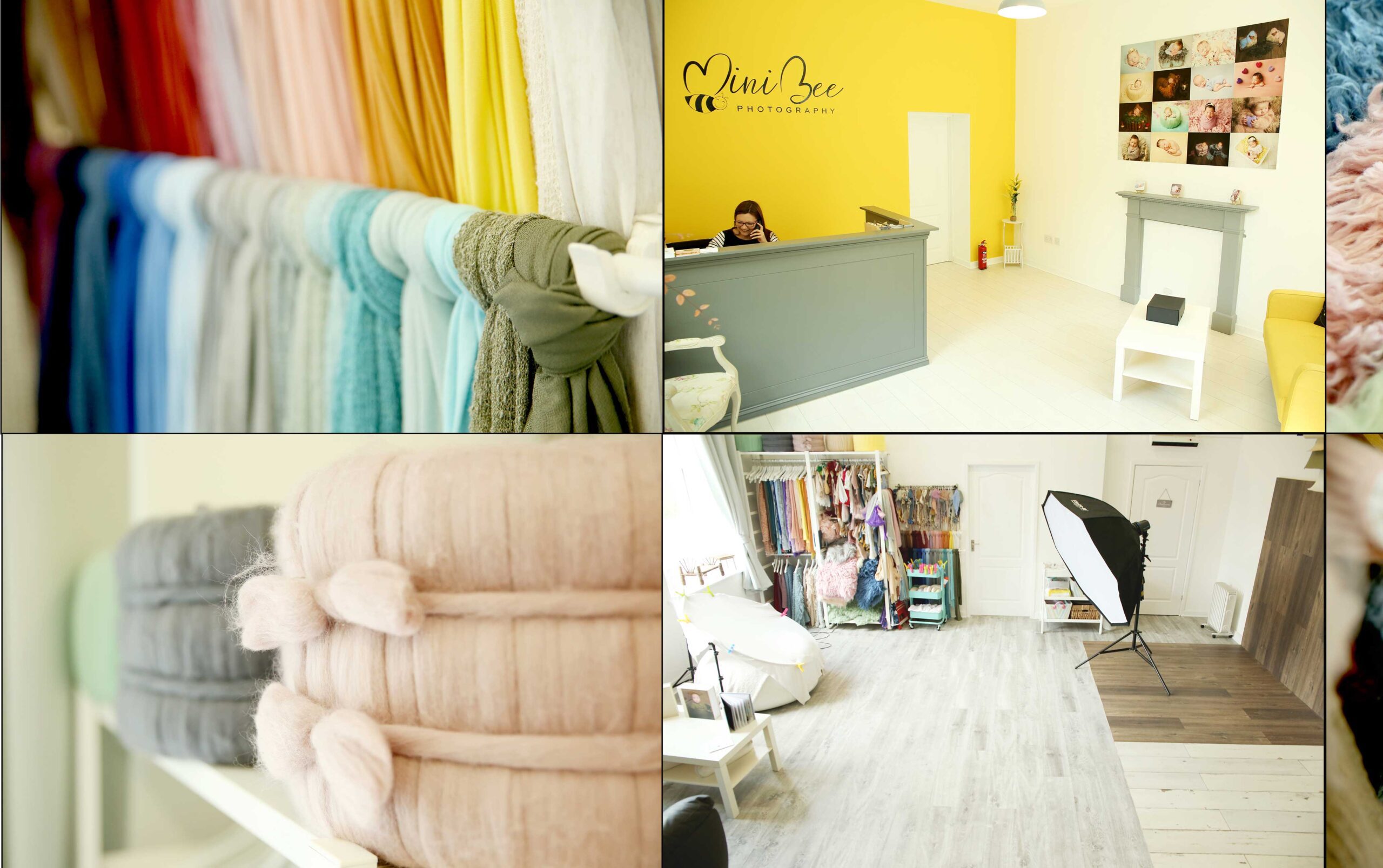 The studio is based in Burnopfield (NE16 6LX to be exact). As the leading newborn photographer in County Durham, we have a dedicated newborn and family studio where you can wind down, relax, have some tea/coffee, biscuits and just enjoy the session. It really is a wonderful experience – Don't take our word, please check out our facebook reviews if you want to see what people thought.
Before your session you will have a pre shoot call to go through what to expect, what to bring, style, colour, etc. This is to tailor your session as much as we can. We photograph for purpose so if you know you favour black and white, we will shoot for this. If you want multiple wall art display, we will shoot for this, if you want neutral colours or bold colours, we will shoot for this too. We want to know what you want and so the sessions are completely tailored.
All sessions are different depending on the type. Newborn sessions are very calm and peaceful, toddler sessions are energetic and fun but, we do make sure all of our sessions are enjoyable. We want you to leave wanting to book in your next session with us.
Gift vouchers are available to purchase for any amount which are valid for 12 months
Gift
Voucher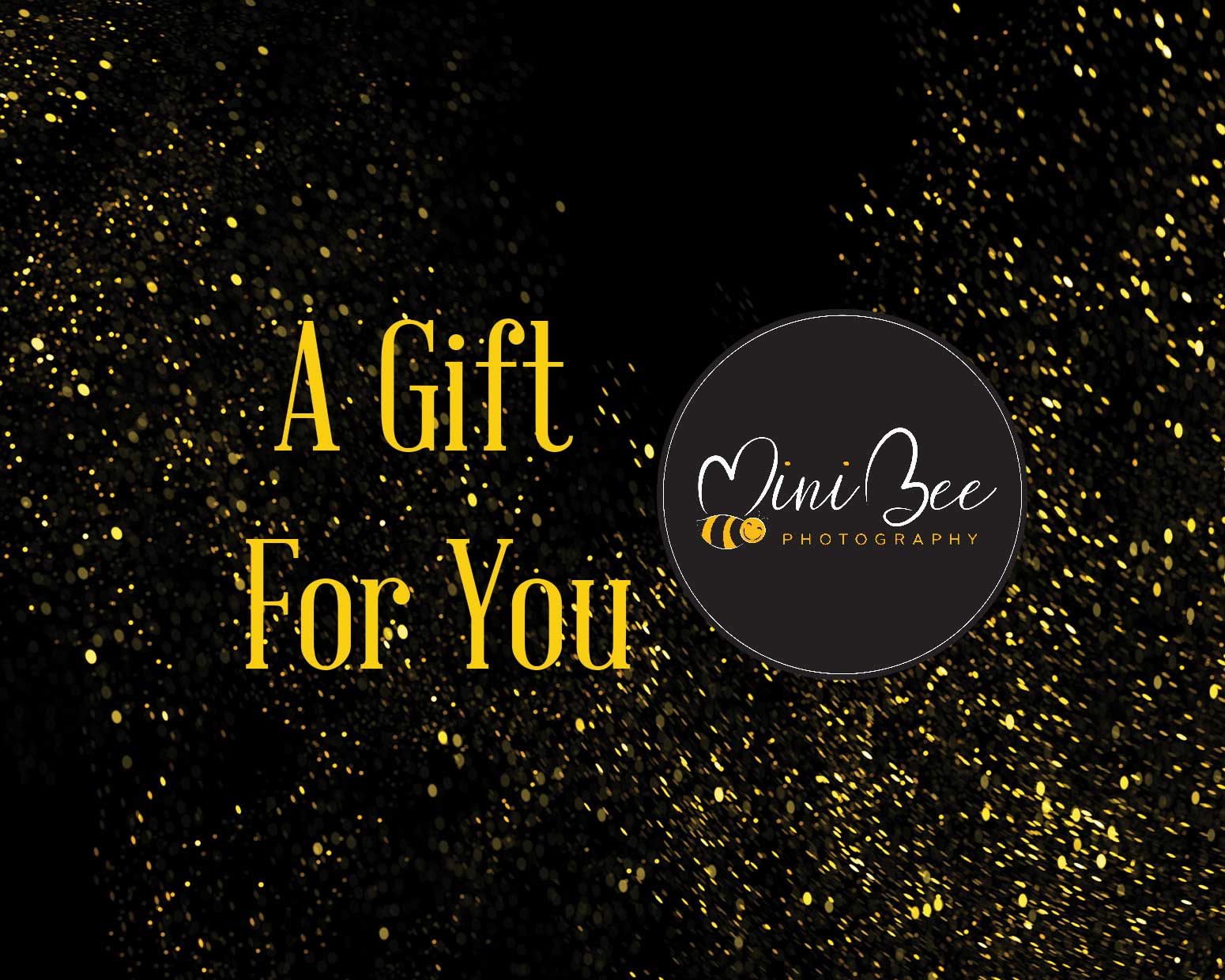 Sweet nectar from our clients
Mummy and Me
I have used Mini Bee Photography since my son was born to capture all the special milestones. I decided to to book the mammy and me photoshoot and it was amazing my mum decided to come along with me too. We have some gorgeous photos of three generations. I would highly recommend this session, Sam is so professional but makes it fun at the same time. I now have memories to last a lifetime.
Leanne Proud
Family Session
This was the 3rd time for us to have a family photoshoot with Sam (Indoor on Nov 2016, Spring 2017 and Autumn 2017). She was so professional, cheerful and friendly. My kids like her so much and call her Aunty Sam. We have a beautiful experience with Sam. Now that we are back to Malaysia for good, the precious memories of the photos captured by her were treasured in our heart forever..
Azizah Hussain
Maternity Session
Sam is a very talented lady and produces stunning pieces of work. She is professional yet so friendly, so smiley and a very good communicator. I would definitely recommend her amazing work. We are very happy to have chosen Mini Bee Photography for all our shoots. Thank you Sam! The Buldu Family x
Fatma Buldu
Sitter Session
This company is run by an amazing women called Sam. She not only welcomes everyone into her shop/ business with a warm welcome but treats everyone like family too.
We have been a few times this year for our daughter Blake.
Every photo shoot we have done has been filled with laughter from start to finish, I always look forward to seeing her again and again.
I personally feel at ease with her and if there is something you don't like, it is dealt with there and then or changed immediately for the photo shoots.
My husband and I can not recommend Sam enough for making our memories come to life, from the photo shoots we have had done and the others we have to come still.
Kate Leighton
Mini Session
Cannot recommend mini bee enough!!! Professional and friendly, made the whole shoot a real fun experience for the whole family, not to mention the pictures are exquisite!!! Have never had such brilliant family shots, will treasure these forever!! We will definitely be going back!
Amie Smith
Maternity Session
I had my maternity shoot with Sam pre-covid and "newborn" shoot during the pandemic once the studio was able to re-open again. Both times, we felt completely at ease with Sam and she has taken some stunning photos. I wouldn't hesitate to book with Sam again. The measures in place during this awful pandemic are fantastic; we felt totally safe the whole time. Sam is also AMAZING with sassy toddlers who really don't want to play ball & you would never be able to tell how challenging my eldest was from the photos. I can't thank Mini Bee enough for capturing our precious memories so beautifully. Can't wait for our sitter shoot.
Sarah Hutchinson
Maternity Session
Sam is an amazing photographer and has captured some of the most precious moments for me and my family. She has not only provided us with amazing photographs and keepsakes but she has been a part of creating special memories that will last a lifetime.
We have had around 6 shoots at mini bee now from our first maternity shoot to a newborn shoot as well as family group shots and just recently a maternity shoot for my second baby. She is able to take our ideas and bring them to life or even just come up with the inspiration when we didn't have any.
Emma Setters
Newborn Session
We absolutely love our photos! Really captured Jaxon's daily expressions and we had loads of styles to choose from (although obviously had to get them all in the end
). You were both amazing with Jaxon, which had been a huge worry of mine with him being my first baby and still so young. He was so calm and settled throughout the full thing which speaks volumes. Very relaxed environment with spaces to feed and change baby. We will be back! Thanks again. Alex, Ross and Jax
Alex Lawson
Cake Smash Session
We had the most lovely experience with Sam getting a cake smash photoshoot for our son's first birthday. Not only did she put him (and us!) at ease during the shoot and make it thoroughly enjoyable, she was the ultimate professional and the quality of her photographs is just excellent! We went to view the photographs today and we were just blown away. Thank you so much Sam! We will be back next year!
Holly Hunter
Cake Smash Session
I got my daughter's cake smash here and the props where amazing (wishing I had of done a newborn Harry potter shoot now) I ordered products aswell and the standard of them has blowing me away. Sam is so friendly and helpful and has captured so many beautiful shoots of my little girl, she is so talented I would highly recommend!!
Leah Robson Cunningham